"They were very majestic and docile animals
and were known to allow snorkelers and scuba
divers to swim gracefully along side them in the
Ocean where they lived for millions of years... until now...

GONUBIE Beach was closed for swimming yesterday amid fears
that the carcass of an 8 meter Whale Shark washed up on the beach.

Whale sharks are harmless plankton feeders common to KwaZulu-Natal North.
"They feed by swimming on the surface with their mouths open and filtering small fish and plankton, or krill, now contaminated with industrial chemicals known by the EPA to be carcinogenic and toxic to living cells. (Life)

"They were very majestic and docile animals and are known to allow snorkelers and scuba divers to swim gracefully with them in the Ocean where they lived for millions of years until industrial, petroleum based toxins were freely dumped into rivers worldwide killing all species of whales."

http://news.za.msn.com/local/article.aspx?cp-documentid=151636039

---
5,000 pound Whale Shark ... dead...
washes ashore on Long Island
NEW YORK (CNN) -- A 26-foot-long dying shark washed ashore Tuesday on a Long Island beach, the New York State Office of Parks, Recreation and Historic Preservation said.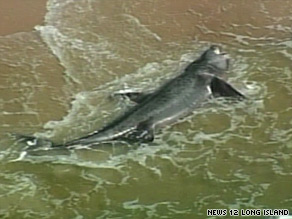 http://www.cnn.com/2009/US/07/14/new.york.shark.beached


---
Five more Blue Whale Deaths Off the California Coast
by David Gurney
Saturday, Oct. 24, 2009 at 5:01 PM
Five confirmed but unexplained blue whale deaths in the last six weeks.
... i see all of this as a global ecological catastrophe...
when dolphins and whales are dying at our feet....
and our children are born with neurological damage...
secondary to their own mom's eating seafood for their health...
i don't understand why people are not outraged over the loss of our Oceans and their own child's intelligence...
http://EcoDelMar.org/whale_sharks
---
Larry --
EcoDelMar.org